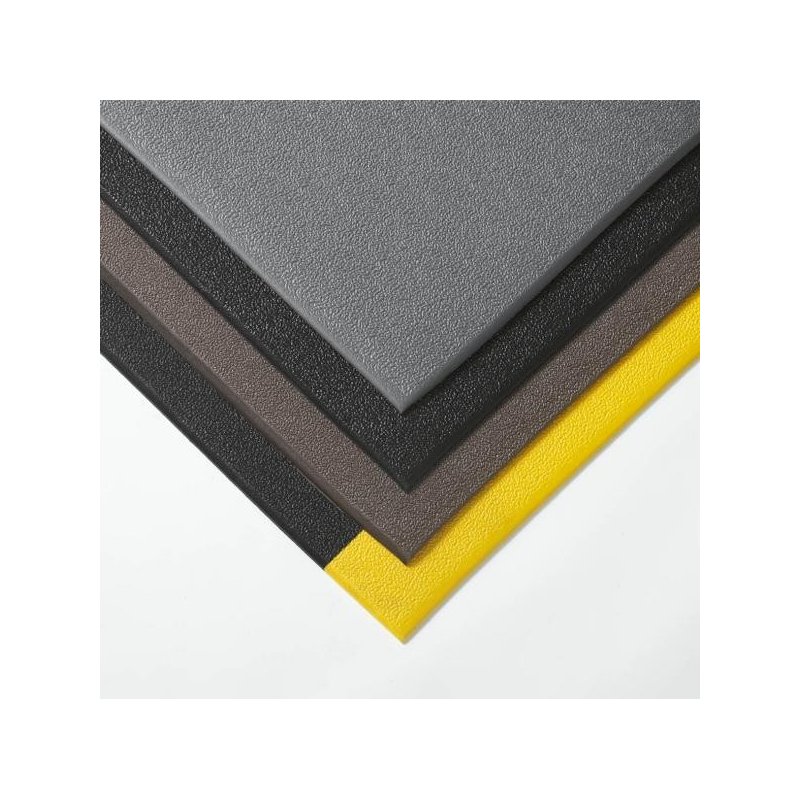 Anti-static mat Cushion Stat esd
Twoja ocena została dodana.
Wystąpił błąd podczas dodawania oceny.
Tylko zalogowani klienci mogą oceniać produkty.
Antistatic mat esd cushion stat In many plants people are the main source of static electricity.
Ordinary walking or sitting on a certain type of chair can generate loads of up to several thousand volts in the human body.
Without proper control, such an electrostatic charge can easily be discharged through devices sensitive to electrostatic discharge, which can cause damage to the equipment. Antielectrostatic flooring (ESD) presented here
they are designed to discharge electrostatic charges from people, which helps to avoid unpleasant electric shock and protects sensitive devices.
A vinyl sponge scatter dissipating electrostatic charges, reduces fatigue and reduces the formation of static electricity.
The pebble surface provides good grip in every direction and is easy to clean.
An optional 10-mm socket is available for connecting the liner to the optional ground wire.
Total thickness: 9.4 mm.
Weight: 3 kg / m2.
Compliant with IEC61340-4-1 (DIF category), measured resistance Rg 106 - 109 Ω, Rp 106 - 109 Ω.
The electrostatic charge (walking test) meets the requirements of ISO6356 and EN1815.
With Dyna-Shield® - The only mid-priced/high performance anti-fatigue sponge mat available with durability approaching that of competitive "laminated" mats. Extends service life by 50%.
Static dissipative vinyl sponge
Recommended use:
Light use - dry places (assembly lines, computer rooms, xerographs)
The dimensions of a single Cushion stat esd mat:
Roller dimensions:
Custom lengths:
roll width 91 cm x length from the measuring meter
Mat colors:
Gray
black
black / yellow
Data sheet
Height

10 mm

Weight

4.1 kg

Application

Wewnątrz

Depreciation

Tak

Anti-fatigue

Tak

Non slip

Tak

Antystatyczna esd

Tak

Fire resistance

Nie

Ruch kołowy

Nie

Loads

Małe

Spawanie

Nie

Olejoodporna

Nie

Fatigue reduction

Tak

Frost-resistant

Nie

Roll

Tak
Specific References
ean13

0662641729032
Image
Reference
Combination name
Quantity
Availability
Price
Add to cart
Related products
16 other products in the same category