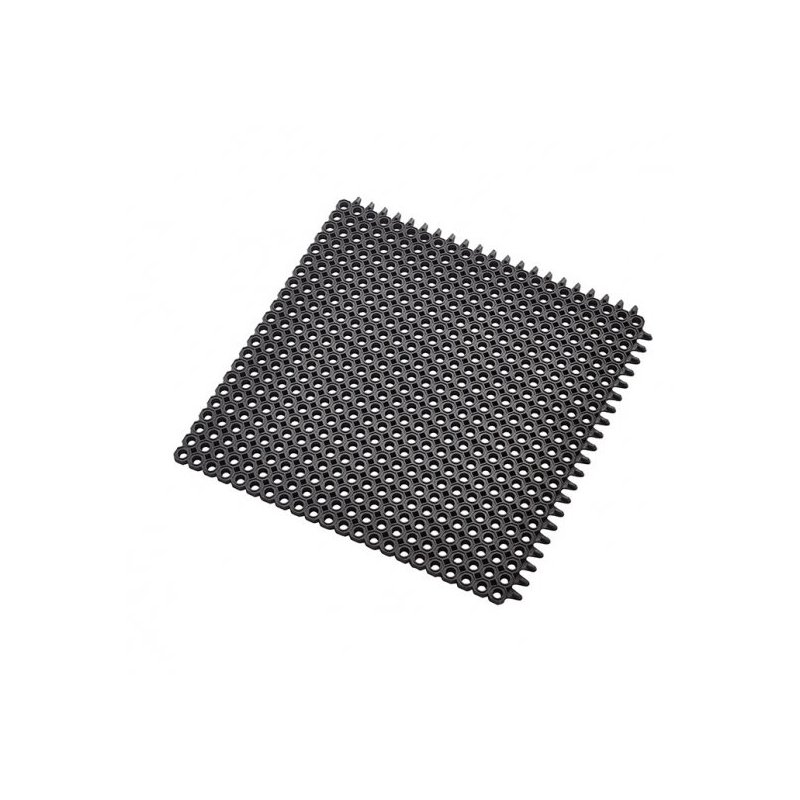 Rubber mat Master Flex D12 modular openwork doormat
Twoja ocena została dodana.
Wystąpił błąd podczas dodawania oceny.
Tylko zalogowani klienci mogą oceniać produkty.
Revolutionary multi-zone modular rubber plates - entry rubber mat elastomer modular master flex height 12 mm, for installation in passages from outside to inside.
Modules can be mixed together to create, for example, mats that collect snow and mud, and then textile modules to absorb water and snow.
Easy to assemble in hollows and large entrance cages.
They are made of natural rubber, which is resistant to intense foot traffic and non-slip.
These tiles have excellent adhesion and adapt to any surface, retain dirt and moisture
and their smooth surface makes it easier to access forklifts, wheelchairs, suitcases with wheels, etc.
The 692 Master Flex rubber mat model has been specially designed for use on high heels. This modular entrance mat system has an open design with a stylish design that can be fully personalized with a large selection of absorbent carpet inserts to prevent dirt, gravel and dirt from entering the building.
Based on the Oct-O-Flex, the Master Flex HHP ™ has a stylish, octagonal groove on the open surface with small drainage holes. In addition, its smooth surface makes it compatible with EU standards for public entrances and is suitable for access on wheels (strollers, wheelchairs, suitcases, etc.).
692 The Master Flex HHP D12 can be combined with the 693 Master Flex HHP ™ C12 for a harmonious transition from the outside to the inside. Dthe attached, bevelled edges are available for loosely laid installations to prevent tripping and allow corners to be inside and outside.
The Master Flex ™ system has all the advantages of a matting tile that can be easily installed, moved or replaced.
What makes it revolutionary is a locking system that creates a durable and seamless connection that can be installed effortlessly without glue to create an even walking surface.
The 50 cm x 50 cm tiles cover large areas and can be mounted on site for installation in recessed matwell frames in large entrances. Made of a durable mixture of natural rubber, which is inherently elastic, non-slip and withstands the toughest foot traffic.
Recommended carpet inserts:
Master Flex Lite, Swisslon Classic XT, Swisslon Uni.
Recommended use:
In zones of very intensive use.
To be placed inside or outside recessed cages / entry hollows.
Dimensions of the rubber mat 1 module:
Colors: black

Accessories:
Recommended additional modules additional carpet inserts:
Master Trax Lite (anthracite)
Swisslon Classic XT (mocha, cobalt, anthracite, granite, blue-gray)
Swisslon Uni (black, brown, blue, anthracite, czReds, taupe, gray)
simple and corner edging
Data sheet
Length

50 cm

Width

50 cm

Height

12 mm

Weight

2.5 kg

Application

zewnętrzne + wewnętrzne

Bottom

Mieszanka gumy naturalnej.

upper layer

Małe otwory o średnicy 14 mm, zgodne z normą UE dla wejść publicznych.

Depreciation

Nie

Anti-fatigue

Nie

Non slip

Tak

Antystatyczna esd

Nie

Ażurowa

Tak

Fire resistance

Nie

Ruch kołowy

Tak

Loads

Duże

Spawanie

Nie

Olejoodporna

Nie

Fatigue reduction

Nie

Frost-resistant

Nie

Modular

Tak

Roll

Nie

Kształt

kwadrat
Specific References
ean13

0662641871939
FAQ
Object mats - why is it worth using them?
An undoubted advantage of object doormats is the fact that they are highly resistant to temperature fluctuations, moisture and corrosion. The doormat stays clean and dry thanks to the drainage holes that allow moisture to escape. A wide selection of patterns and colors ensures that the entrance mat is matched to the nature of the business. On the other hand, the possibility of printing your own logo means that the company doormat can be 100% personalized, which will prove the professionalism of the place where it will be located.
The aesthetic object mat is an important showcase - it is almost the first thing every person visiting the facility encounters. However, it is not only an object with a decorative function. Helps contain dirt and moisture and keeps you safe.
Related products
16 other products in the same category