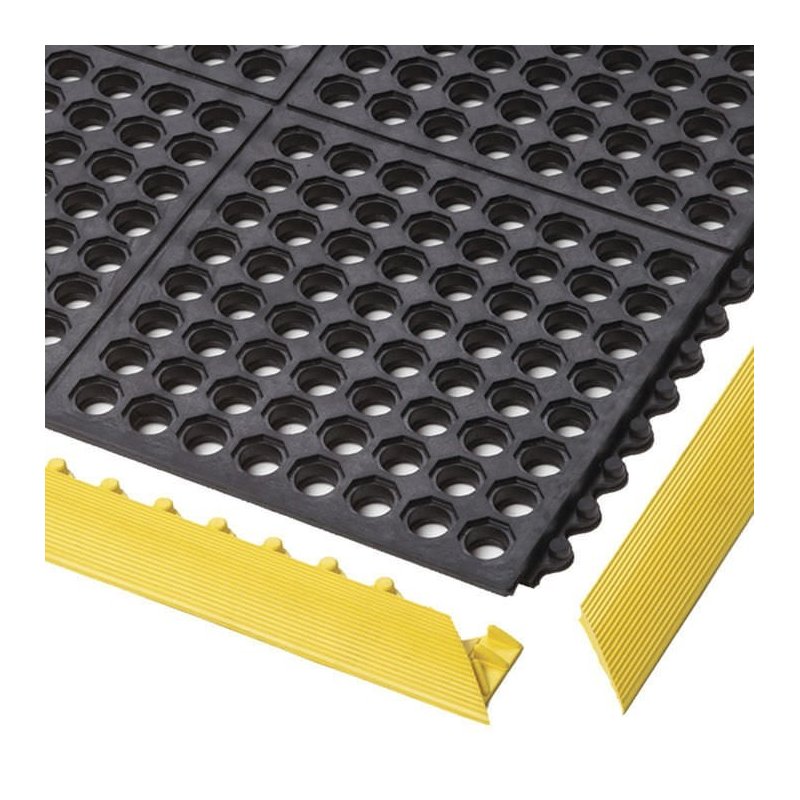 Anti-fatigue mat Cushion Ease modular rubber
Twoja ocena została dodana.
Wystąpił błąd podczas dodawania oceny.
Tylko zalogowani klienci mogą oceniać produkty.
The rubber modular mat 91x91 cm cushion ease which can be combined with each other, edging available. 
Perfectly draining fluids and ventilating surfaces make it easier to maintain a dry, clean workplace.
The joining system allows you to adjust the shape of the floor covering to your local needs. Square rugs combined with dimensions 91x91 cm, which can be easily assembled and laid from wall to wall, or in the form of islands, in any direction and shape.
Solutions facilitate the creation of external and internal corners.
Extraordinary ability to reduce fatigue due to the unique construction of the liner and the use of high quality rubber materials.
Available as a general purpose floor covering or in the form of ready-made solutions, including oil-resistant, flame-retardant, anti-bacterial, anti-static, anti-static, and non-slip GSII ™ flooring.
Intended for long-term use.
Resistant to most chemicals and high temperatures.
They do not contain silicone, they can be used in car paint shops.
Ergonomic benefits thanks to a 19 mm high working platform.
Recommended use of modular cushion ease:
Intensive use - industrial environment - dry and humid places
Dimensions of the rubber cushion ease:
91 cm x 91 cm
on request in m²
colors:
Accessories:
plug and socket connectors
91 cm female edge - black, red, yellow and orange
Men's edge 91 cm - black, red, yellow and orange
Data sheet
Length

91 cm

Width

91 cm

Height

19 mm

Weight

10,8 kg

Application

zewnętrzne + wewnętrzne

Depreciation

Tak

Anti-fatigue

Tak

Non slip

Tak

Antystatyczna esd

Nie

Ażurowa

Tak

Fire resistance

Nie

Ruch kołowy

Nie

Loads

Duże

Spawanie

Nie

Fatigue reduction

Tak

Modular

Tak

Roll

Nie

Kształt

kwadrat
Specific References
ean13

0662641017795
Image
Reference
Combination name
Quantity
Availability
Price
Add to cart
Related products
16 other products in the same category